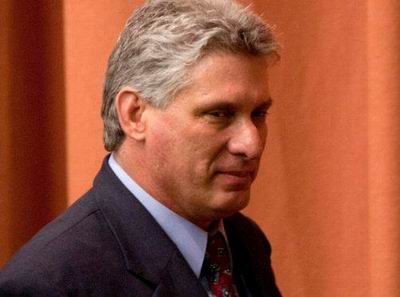 Havana, Cuba, May 23.- Cuba first vice-president Miguel Diaz Canel arrived in Quito, Ecuador, on Thursday heading the Cuban delegation that will attend the official inauguration of president-elect Rafael Correa on May 24.
Havana, Cuba, May 23.- The historic leader of the Cuban Revolution, Fidel Castro, sent congratulations to participants in the materialization of the National Rehabilitation Program, who marked its first decade on Wednesday.
---
Havana, May 22.- Cuba has developed a hemovigilance program with results similar to those of industrialized nations, said a Cuban physician participating in the 7th Cuban Congress of Hematology (Hematology 2013).
---
Havana, Cuba, May 23.- The Villa de la Habana Men's Foil World Cup and the Women's Epee Grand Prix will be held simultaneously from today in this capital.
---
Havana, Cuba, May 23.- The economic blockade imposed by the United States against Cuba is unfair and illegal, said Saharan foreign minister Mohamed Ould Salek and he noted that his government´s position is shared by other African countries.
---
Camagüey, May 23. - Endedans Contemporary Ballet Company –from Cuba- will celebrate its 11th anniversary showing some of the classics they have included in the company's repertoire.
---
Havana, May 23.- Half a century from its foundation, the Cuban Institute for Research on Sugar Cane By-Products (ICIDCA) is focusing on agricultural diversification programs with the development of new product.
Havana, Cuba, May 23.- The Cuban medical brigade working in Paraguay assisted over three thousand cases in the first four months of this year in Paraguay and returned or improved the sight of 1 031 citizens that suffered from eye diseases.
Havana, Cuba, May 23.- In response to an invitation from the Cuban churches and people, and as a gesture of unity and solidarity, amidst the unjust measures imposed by Washington, the 6th Assembly of the Latin American Council of Churches opened in Havana on Wednesday.
---
Caracas, May 23.- Venezuelan Foreign Affairs Minister Elias Jaua met with India's ambassador in the country, Smita Purushottam, to review the bilateral cooperation agenda, reported official sources.
Ottawa, May 23.- Hidden behind alleged peace talks between, the United States is preparing a regional war, denounced today the Canadian alternative publication Global Research.
---

Camagüey | Cubitas | Florida | Guaimaro | La voz del Bayatabo | Nuevitas | Santa Cruz | Vertientes
Two persons die in a car accident in Camagüey province.
Paris, May 23.- Cuba's People's National Assembly President Esteban Lazo made a visit to UNESCO headquarters,here today, where he was welcomed by acting general director Hans d'Orville.
---
Washington, May 22.- The explorer robot Curiosity drilled another rock from Mars to collect samples to be analyzed with its internal instruments, informed the US National Aeronautics and Space Administration (NASA).
---
Holguin, Cuba, May 23.- Some 350 delegates from 37 countries have confirmed their attendance to the 9th International Colloquium for the Freedom of the Five Cuban heroes and against terrorism, to be held in this city in November.
By Yamylé Fernández Rodríguez/ Radio Cadena Agramonte

The observance on May 15 of the International Day of Families calls us to reflect about the case of the Cuban Five –antiterrorists unjustly condemned to disproportionate sentences by US courts; an issue which goes beyond the US hostile policy against the island nation and violates fundamental rights present in the Bill of Rights of the northern nation, and in the Universal Declaration of Human Rights.
---