Havana, Apr 23.- In tribute to the writer Miguel de Cervantes Saavedra, deceased on April 23, 1816, each year is celebrated in this date the Day of Spanish Language.
Havana, Cuba, Apr 23.- The visit to Cuba of Belarus's Attorney General Alexander I. Koniuk is part of an agreement between the judicial sectors from both countries.
---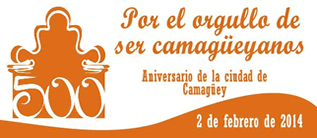 More: Camagüey: 500th Anniversary
---
Cienfuegos, Cuba, Apr 23.- Baseball player Antonio Muñoz, an ex captain of the national team, was named today Illustrious Son of Cienguegos city (in central-southern Cuba), on occasion of the 159th anniversary of its foundation.
---
Washington, Apr 21.- Biofuels made from the leftovers of harvested corn plants are worse than gasoline for the global warming in the short term, a study released by the journal Nature Climate Change says.
---
Camagüey, April 23 - In an attempt to reduce economic and social damages, the Ministry of Science, Technology and Environment (CITMA) has given priority to studies on hazards, vulnerabilities and risks in Camagüey province.
---
Havana, Cuba, Apr 23.- Cuba will chair, for the first time, the World Health Assembly, the 67th edition of which will be held on May 19-24 in Geneva, announced an official of the Cuban Public Health Ministry (MINSAP).
Havana, Cuba, Apr 23.- European Union and Cuban experts are exchanging their experiences on economic and commercial issues during a forum in Havana as part of bilateral collaboration actions opened in 2008.
---
Bogota, Apr 23.- Colombian president Juan Manuel Santos reinstated Bogota's mayor Gustavo Petro, abiding the Supreme Court'' ruling in favor of Petro.
Caracas, Apr 23.- Judicial authorities in Táchira state issued an arrest warrant today against US citizen Tood Michael Leininger for alleged arm trafficking.
---
Camagüey, April 23 .– Cuban rock band Sintesis took to the stage yesterday evening at the legendary Plaza del Carmen- Camagüey prettiest square located in a segment of town proclaimed a UNESCO World Heritage Site- where they performed anthological and new hits of the group.
---

Camagüey | Cubitas | Florida | Guaimaro | La voz del Bayatabo | Nuevitas | Santa Cruz | Vertientes
Mi amigo Hugo, the most recent documentary film US filmmaker Oliver Stone.
Havana, Cuba, Apr 23.- Supporting Cuba, its Revolution, and the right of the people to sovereignty will continue being the main task of the Norway-Cuba Friendship Association, Cubaforeningen, ratified on Tuesday in this capital Tejer Enger, president of that movement.
---
Your message of solidarity for the #CubanFive is important! Join our voices.
Montevideo, Mar 31.- Uruguayan President Jose Mujica today rejected the U.S. economic blockade against Cuba and warned about the attempts to impose sanctions on Venezuela.
---